Most in demand jobs in Europe, making it harder for some of those hoping to swap their current jobs for a new one this year to find a suitable role.
The labour market had recently been quite good for workers, with plenty of job openings and little competition. But as the economic situation in Europe remains uncertain amid the war in Ukraine and the ongoing cost of living and energy crises, many companies have been forced into hiring freezes.
It's bad news for the 57 per cent of professionals in Europe who are considering changing jobs in 2023, according to new research by LinkedIn, the online professional networking platform.
'It feels like coming home': Why people are embracing becoming 'boomerang workers'
Still, there are bright spots in the labour market where new job opportunities have opened up in recent years, as shown by its latest 'Jobs on the Rise' list.
Examining millions of jobs started by LinkedIn members from January 1, 2018 to July 31, 2022, LinkedIn Economic Graph researchers drew up a list of the 15 fastest-growing jobs across Europe that shows expanding opportunities in sustainability, cyber security and business development roles.about:blank
"LinkedIn's data shows that despite economic uncertainty, candidates with the right skills have job opportunities. Employers throughout Europe are recruiting people to help them tackle the big issues facing businesses," said Josh Graff, Managing Director, EMEA & LATAM, at LinkedIn.
"In 2023 that means climate change and cyber security. Sales professionals are also in high demand, as businesses grapple with the need to deliver growth amidst challenging macro-economic circumstances".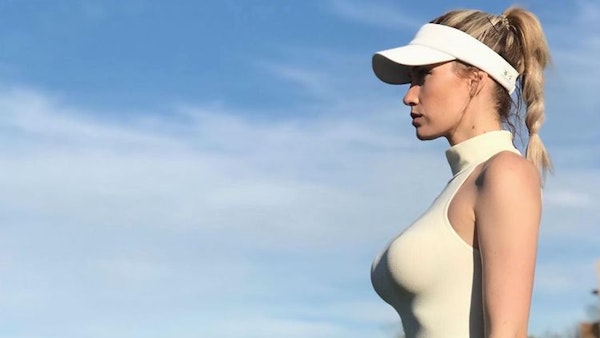 Want to work from home? These European countries are the most open to hybrid or remote work
The fastest-growing jobs, from sustainability to business development
With businesses under pressure to slash their carbon emissions to help tackle the climate crisis, it's not surprising that one of companies' most sought-after jobs this year is that of Sustainability Manager.
Sustainability roles feature on LinkedIn's 'Jobs on the Rise' lists in 13 countries globally including France, Germany, Spain, the Netherlands, Italy, Sweden and the UK.
The role of Sustainability Manager – covered by the person responsible for analysing and predicting the present and future environmental impact of the company they represent – was the second-fastest growing role in the UK and the fourth in Germany.
In France, the top four spots on the list were all taken by jobs in the sales sector, ranging from Growth Marketing Manager (#1 fastest-growing job), Sales Development Representative (#2), Customer Success Manager (#3) and Enterprise Account Executive (#4).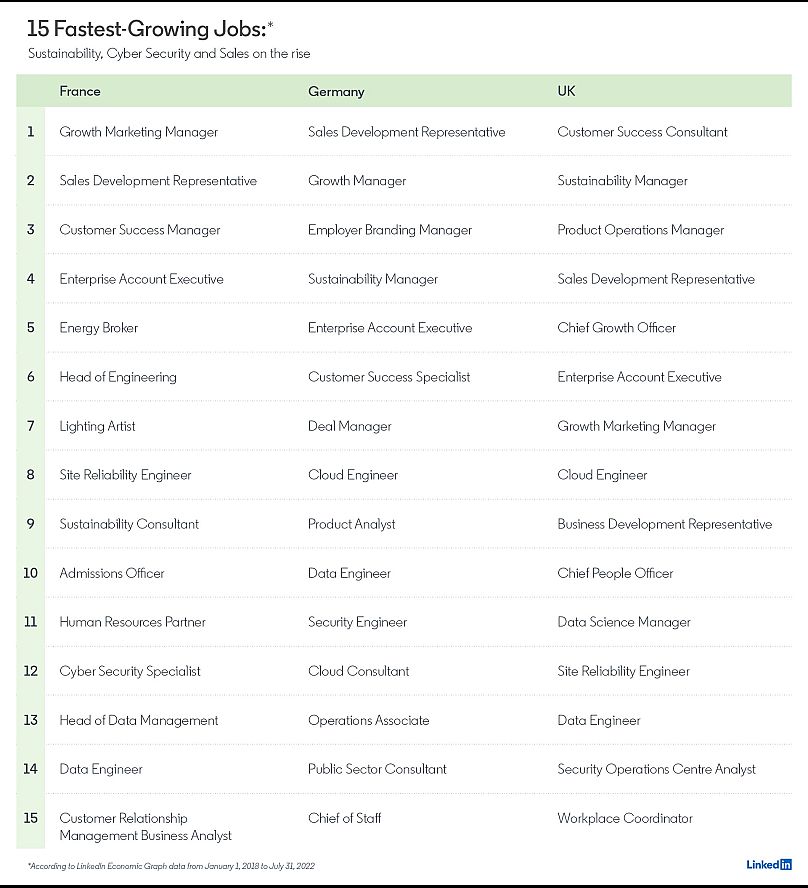 The fifth fastest-growing job in France was that of Energy Broker – someone who helps companies make decisions about energy providers, comparing commercial gas and electricity deals.
In Germany, the same jobs were reshuffled in a similar-looking list topped by jobs in sales and brand management: the number 1 spot was taken by the role of Sales Development Representative, followed by Growth Manager, and Employer Branding Manager.
In the UK, the fastest-growing job was Customer Success Consultant, followed by Sustainability Manager, Product Operations Manager, Sales Development Representative and Chief Growth Officer.
What employees want: Flexible work hours, leaving early on Fridays, and why not a 4-day workweek
Labour market still tight
LinkedIn's data also shows that the European labour market remains relatively tight, and jobseekers aren't facing fierce competition for roles.
For instance, there's about one job opening for every person applying in Germany, while in France and the UK there are two applicants for every open role.
Workers are mostly worried about the cost of living crisis, and a higher salary is their biggest motivator to look for a new role, but greater flexibility and career development opportunities are also critical factors, Graff said.
"While the labour market is no longer red hot, companies still have to think carefully about how they appeal to candidates," he said.