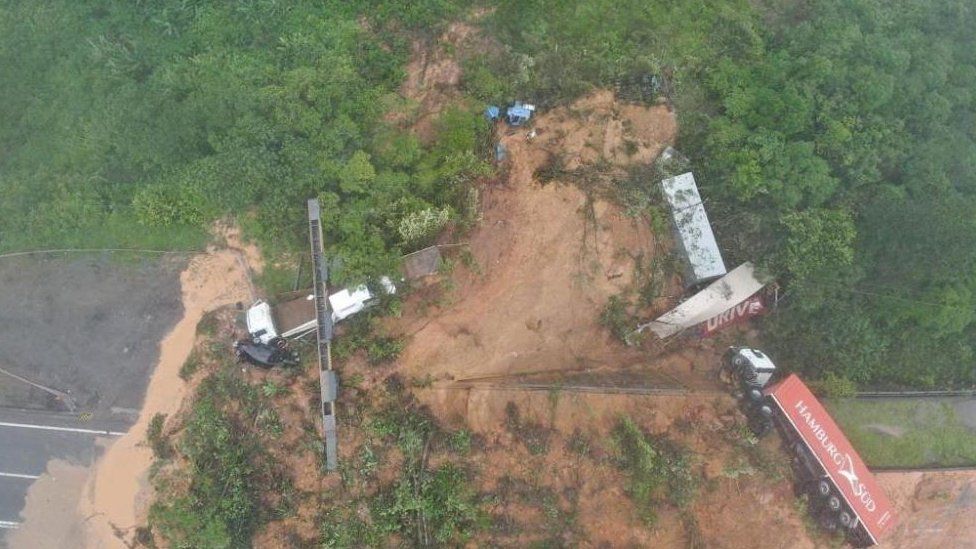 A landslide on a highway in southern Brazil has killed at least two people and dozens are missing.
Authorities said a torrent of mud hit highway BR-376 in Paraná state, hitting more than 21 vehicles.
Rescuers at the scene said bad weather and remoteness made searches difficult.
Firefighters use a thermal imaging camera to locate possible survivors. Up to 30 people are listed as missing.
An aerial view shows a landslide on the BR-376 federal highway after heavy rains in Guaratuba, Paraná state, Brazil, on November 29, 2022.
PICTURE SOURCE REUTERS
Screenshot,
At least 15 cars and six trucks were inundated by the landslide.
Aerial images show a truck hanging precariously from the bridge. The rescue teams found the body of its driver, who was identified as Joao Pires, 62.
The relative said that he had worked as a trucker most of his life and knew the road where the accident occurred.
The name of the second victim has not yet been released.
Another trucker whose cab had sunk into the mud was rescued with minor injuries. Jose Altair Biscay, 43, recorded a video on his phone in which he was trapped.
"I'm alive, thank God. I'm in the middle of the ground, just in the corner to the left of the truck. I'm covered in cuts. But I'm alive," he is heard saying. in frames
The interior of his cabin appears to be mutilated and bloodstained. Outside the window is a wall of solid mud.
Six survivors have been located so far. Among them is the mayor of the coastal town of Guaratuba, Roberto Justus.
In a video posted to social media after he was rescued, Justus said it was a "miracle" that he survived.
"It was terrible," he said. "The mountain has just fallen on us. He washed every car down to the last one."
He told local radio station Rádio Gaucha that he and his driver, Claudio Margarida, broke their car windows to get out.
"A sea of ​​dirt, trees, branches hit the car door. I was in the passenger seat and the impact was such that our car was lifted up. on the opposite side of the road," he said.
The landslide was triggered by days of heavy rain in Paraná.
Landslides are not uncommon in Brazil, and hillside communities are often washed away when wet slopes collapse.
In February, more than 200 people died as a result of landslides in the city of Petrópolis in Rio state.