While you can always backup bookmarks and other settings through the built-in feature in Opera, it is always a mess because you end up having lots of backup files. Also, you may want to know that the backup cannot be restored or transferred to other browsers if you are backing up bookmarks in HTML format. Restoring these files will be a pain. There is no option to do a full backup of the browser's settings, which is why we resort to third-party tools for backing up the important data.
In this article we will look at the tools I have tested personally to backup my Opera browser. I tested these tools on my Windows computer running XP and Windows 7. Let's get start?
Tool 1: Opera Backup
Opera backup is a free Windows-only utility which will backup profile, bookmarks, search settings of Opera browser. Once you have downloaded the program, you will be able to save anything — be it bookmarks, certificates, speed dial, dictionaries, so on.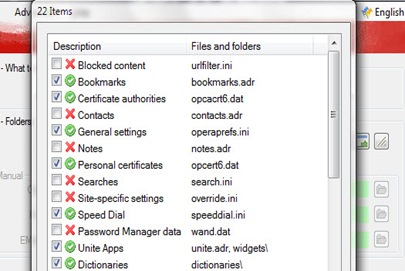 You can also backup the the urlfilter.ini file, passwords (if you cannot keep up with Apple's strict password requirements) and everything else. Run the program manually, tick the checkboxes for files you would like to backup. To restore the Opera profile, use this application once again and click on restore which will transfer the old settings to the newly installed opera browser.
Tool 2: Browser Backup Pro
Just because the name of the application includes the word "pro" doesn't mean it's a paid tool. This free app can save all the Opera's settings — including bookmarks, history, passwords, plugins, and so on — quickly and efficiently. If you are running out of disk space, don't worry as this tool comes with 3 ways to compress the backup: slow, normal, and fast.